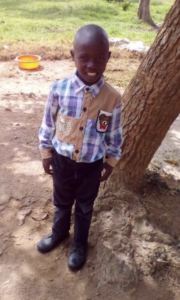 Name of Student: BAGESERA GONZAGA
Mother's Name: BYEGANJE OLIVA
Father's Name: MALINZI GONZAGA
Student's Birth Date: 13TH NOVEMBER 2011
Student's current Age: 8 YEARS
MJS Grade Level: ONE
Biography: Gonzaga stays in a family of 11 members. The father takes his children to school. He does some simple farming which provides some income but is not enough to take care of all the needs of the family and the ability for the children to attend school.
Gonzaga is a bright boy, humble and disciplined.
The father is asking for any support.