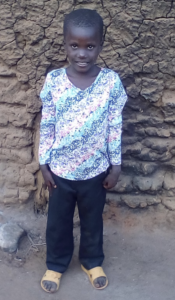 Name of Student: GGENZA DAVID
Mother's Name: NAKABUBI IRENE
Father's Name: KIBATTE PETER
Student's Birth Date: 15th September 2014
Student's current Age: 6 YEARS
MJS Grade Level: TOP
Biography: Ggenza comes from a family of 15 members. The father abandoned them, leaving only Ggenza's mother, Irene, to meet the needs of this large family. Above all the women seen in the village, she is one of the most serious, who tries to make sure her children remain in school.
Irene has four children who are in primary and four who are enrolled in secondary school. She earns very little from simple farming.
By supporting Ggenza, you will be helping lift some of Irene's burden.