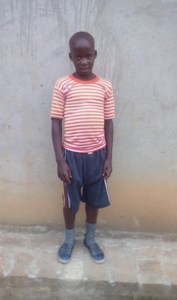 Name of Student: KAJJUBI CHARLES
Mother's Name: NAKIBUULE GRACE
Father's Name: KALANZI CHARLES
Student's Birth Date: 19TH APRIL 2006
Student's current Age: 14 YEARS
MJS Grade Level: FOUR
Biography: Charles' family was one of the first families at Mweruka Village when MJS started. The first and second born children completed MJS, but unfortunately, due to circumstances at home, they could not continue their studies at the high school level.
Charles' mother is in fear that Charles will not be able to complete his studies at MJS and might also stop pursuing his education as the first two did.
Charles needs support to continue with his studies.