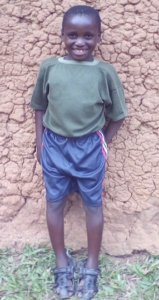 Name of Student: SSALI RONALD
Mother's Name: NALUBEGA JUSTINE
Father's Name: BIRIMUYE PASCAL
Student's Birth Date: 30TH MARCH 2011
Student's current Age: 9 YEARS
MJS Grade Level: ONE
Biography: Ronald's mother, Justine, was one of the parents who planted flowers at the school compound; irrigating and caring for them. When there are school functions such as speech days, sporting events, etc., Justine helps with many chores associated such as sweeping, cooking, and even splitting fire wood in exchange of her services for school fees.
Justine has been seen many times escorting other parents children (who stay very far away from the school), to cross the swampy and forested areas delivering the children safely. She does this voluntarily as she has a heart for the school.
She would like her 5th child, Ronald to be supported for his attendance in Grade One.